Facial Rejuvenation & Refinement Methods
Microcurrent : Improves skin quality and facial firmness.
Microexfoliation : Reduces wrinkle reduction and corrects pigmentation.
Pore Refinement : Gently cleans and reduces pores for healthier skin.
Eyebrow Shaping : For Women and Men.
---
Microcurrent Treatment
Microcurrent is compatible with the body's own electrical system.
Microcurrent uses extremely small pulsating currents of electricity to normalize the ordinary activity within cells. Normalizing cell activity reduces inflammation and increases collagen producing cells.
Microcurrent is effective in neutralizing the oscillating polarity of injured cells. Healthy cell metabolism creates a healthy, pain free internal environment.
Esthetic Benefits
Increases ATP for cellular repair
Increases natural collagen 14%
Increases natural elastin 48%
Increases blood circulation 38%
Increases skin firmness
Reduces appearance of fine lines and wrinkles
Health Benefits
Pain Management
Treats source of pain
Helps healing from inside out
Provides sense of wellbeing
Prepares body pre-surgery
Assists body post-surgery
Microcurrent has been used successfully in the medical field for over 20 years.
Jeunesse by Clareblend "This procedure is preventative for younger clients and rejuvenating for mature clients. It is a non-invasive treatment that gives you the option for anti-aging without the recover and expense of surgeries and other aggressive treatments."
(top)
---
Micro Exfoliation Skin Treatment
Microexfoliation can make a beautiful difference to skin. It is the safest and most effective method available for wrinkle reduction, skin exfoliation, and pigment correction. The treatment removes sun-damaged skin and can remove or lessen scars and dark spots.
Microexfoliation also rejuvenates skin by removing the dull, lifeless, sun-damaged epidermis and stimulating the production of new skin cells and collagen. You will see improvement after just a few treatments.
Microexfoliation the most natural way to regain the youthful appearance of skin without chemicals, lasers or surgery, or extended periods of irritation and redness. It is ideal for anyone who wants to improve skin appearance and reverse the signs of aging.
DiamondToneby NewApeel , "MicroExfoliation is similar to particle microdermabrasion and chemical peels in its results but without the adverse effects of lose particles, irritation and skin reaction."
(top)
---
Pore Refinement
A deep cleaning facial treatment will gently unclog pores without damaging the skin. Clearing pores leads to healthier skin and pore refinement.
Eyebrow Shaping
Eyebrow shaping for men and women.
Your eyebrows are the natural frame for your eyes; beautiful brows show off your beautiful eyes.
Also, beard work for men: thinning and or shaping, removing unwanted and ingrown hairs.
(top)
---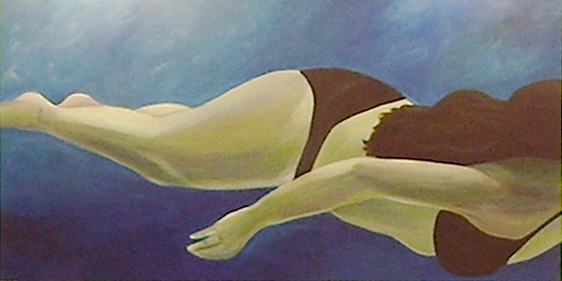 Acrylic Painting by Aftan Hernandez